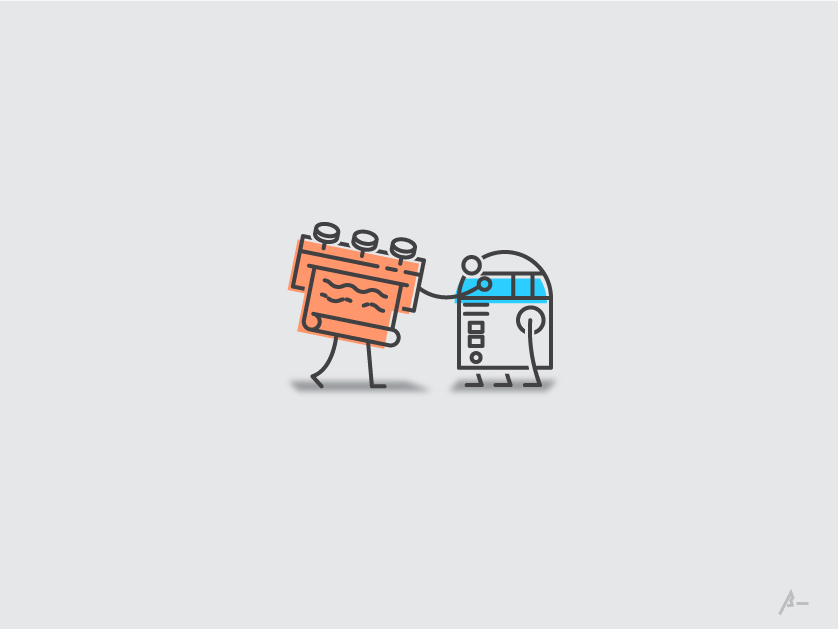 A long time ago, in a galaxy far, far away…
Ah forget it!  It's not the same without the intro music playing.
I have always wondered what other training activities were done by Luke when he was with Obi Wan.  We see this session they had when they were aboard the Millennium Falcon.  Luke was training with a helmet covering his eyes and blocking lasers from that little Death Star lookalike hovering ball of metal (which Jedis use for training).  Other than that I remember nothing else was shown about how Obi Wan taught Luke the basics of being a Jedi.  Maybe Luke was so strong with the Force that he did not need the training?  I would like to think Luke and Obi Wan did more exercises using other cool Jedi training tools.
Obi Wan, being a Jedi Master, was ready to train Luke into becoming a Jedi.  He had his tools ready.  Just like how Scrum Masters are equipped to train and guide teams in becoming Agile.  I think training teams to do Scrum is a little less challenging nowadays given that Agile methodologies are becoming the default development process used in projects – especially software development projects.  So people are less resistant in adapting Scrum or any Agile methodology.  When I joined Chromedia, I observed that everyone was excited in doing Scrum.  They had the right attitude and the Force was strong in them.  The real challenge was that we were a distributed team.  Our product owners were in Denver, the development team is in Cebu, Philippines, and the Scrum Master was in another province in the Philippines which was far from Cebu (in Laguna).
[Tweet "…to empower a team you must give them the right tools which they need"]
One of the important lessons my own Scrum Master taught me was: to empower a team you must give them the right tools which they need.  This was exactly what we needed in Chromedia, the right tools.  Luckily in this age there are plenty of great tools out there.  Here is what we use:
We have an on-demand Atlassian Tool Suite instance from https://www.atlassian.com/
the main project management tool we use
JIRA, JIRA Agile, JIRA Capture – the heart of our collaboration, we use Scrum Boards to manage the backlog, have a good view of work being done in a Sprint, getting reports for team velocities and burndown charts, providing well defined bug issues
Confluence – we discuss details about the project, a treasure trove of knowledge and wisdom, we check our Confluence first before we ask Google, we curate all the useful information here about projects and even about company matters
Tempo – for timesheet management, timetracking
Google Hangouts is our main method of communication
we chat and call each other as often as we need to
we prefer face-to-face conversations so Hangouts has been very useful
calling someone is always our first action to the need of discussing something.  Then we make sure to document discussions in Confluence and also in JIRA (comments in issues)
InVision has been really helpful in discussing design work
I have been introduced to this great tool when I joined Chromedia
With this tool we have a clear way of collaborating on mock-ups, wireframes, graphic designs
We play planning poker by going to http://www.planningpoker.com/
And so we have fun giving estimates to the work needed for projects
With these tools we are able to overcome the challenge of not being co-located.  We are able to make sure we are efficiently communicating, not just among ourselves but also with our clients.  (Yes we allow our clients access to our tools)  You want to know how the sprint is going?  Here have a look at our Scrum board for the project.
With these tools our distance from each other doesn't matter.  We are able to harness the Force in us.
"Use the Force, Luke." – Obi Wan Kenobi, Star Wars Episode IV: A New Hope