Here at Chromedia, we know it can be taxing for a new business to take on innovative app development while trying to stay afloat in a struggling economy. That's why we're here to help! We're a seasoned team of full-stack developers, frontend developers, QA specialists, and AWS certified system administrators willing and able to bring your app idea into reality. We tailor our talent to fit your needs so you're always on top! Whether you need to augment an existing team or maintain and scale your iOS/Android apps, we've got you covered!
In light of our success and prowess, we've been named among the top developers in Colorado by Clutch, a B2B market research firm. They leverage a one of a kind ranking formula to compare and contrast leaders across a number of service sectors.
We couldn't have earned this award without the help of our lovely clients. They took time to engage with Clutch to assess our impact on their day to day operations. We were graded on aspects such as quality, attention to project timelines, pricing, and project management. We're happy to say we've earned an excellent 4.9 out of five stars on Clutch based on their feedback! Take a look at a recent review below, along with quotes from other reviews: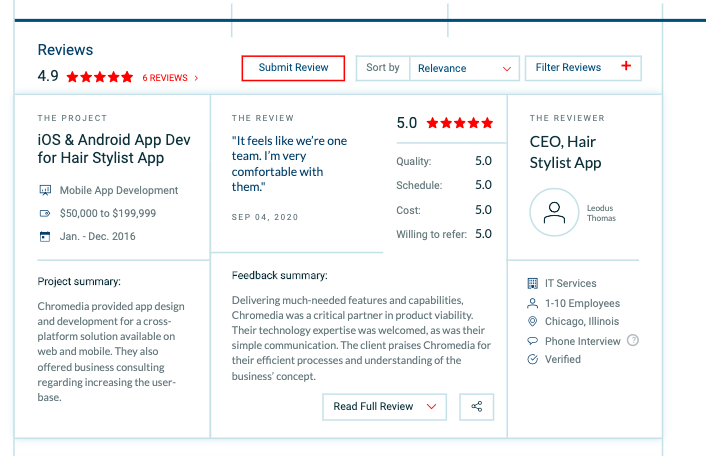 "Their consistency stands out. Chromedia delivers what they say they're going to deliver in the timeframe and budget they promise. It's important as a business owner to be able to count on a partner like them. All I have to do is communicate my needs to our team lead, and they figure out how they're going to get it done and let me know if there's a problem. I know what to expect from them, and I get that consistently."

— Owner, Media Company
"Chromedia's leaders are particularly adept at guiding the team for rapid, high-quality production. They have a very deep understanding of the healthcare industry. They have a special competency in healthcare technology, and we appreciate their expertise because it's hard to find in the development arena."

— CEO, Healthcare SaaS Company
Interested in learning how Chromedia can help your business thrive? Drop us a line today!