Putting together an effective team to develop awesome software is demanding in any environment these days. Selecting exactly the right people is critical to the success of any project but finding the right team members is a time-consuming, expensive and challenging process. Finding the right developers for your project doesn't have to be a gamble if you understand the Benefits of Outsourcing with Chromedia and piggyback on our efficient recruiting process that we'd followed over a decade. We've updated the process to our evolving high standard and built a strong employer brand in the Philippines to attract and engage better-qualified candidates. We have a strong hiring team that created a good candidate experience that can take months to go through with data-driven metrics. 
Our talent pools are qualified because we've tested the candidate's abilities, skills, character, professionalism, and commitment through our comprehensive hiring process.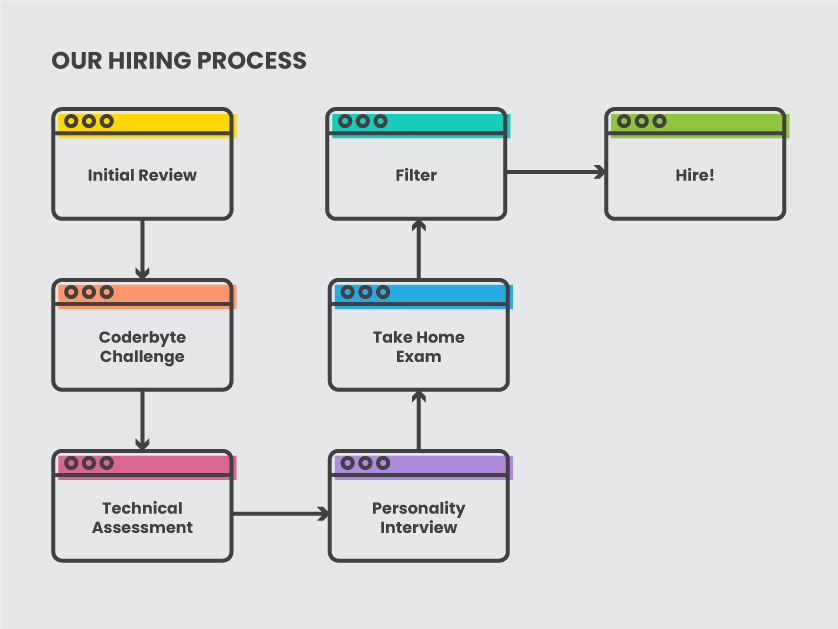 Initial Review
Our hiring process begins with an initial review where we cross-check the skillset of the developer candidate with the skills we are looking for. We immediately turn down the application of the developer candidates who don't pass our high standards.
Coderbyte Challenge
The candidate then dives into an assessment of their ability and skills after passing the initial review through our Coderbyte exam and with a couple of multiple-choice questions. We partnered with Coderbyte for this stage since they provide different coding exams and questions that cater to different programming languages. They provide us detailed information like how a candidate handled the challenge, detects whether there is plagiarism involved, how many times the candidate left the exam tab, how the candidate searched for references, and the number of attempts to complete the challenge. Candidates who don't pass this challenge are eliminated.
Technical Assessment
Once the candidate passes the Coderbyte challenge, we then schedule them for an interview to assess their technical skills, knowledge, and experience. During this stage, the candidate is asked fundamental to advanced technical questions on concepts covered under the role he is applying for. In addition, we align our client's technical requirements to the questions being asked to make sure that we pick the candidate who could deliver and is the best fit to fulfill our client's needs.
During this stage, we also dig into the candidate's analytical skills. They are given situational questions that showcase how they think critically, and we try to see if they can provide suggestions on how to prevent such issues from happening in the future.
Personality Interview
Besides asking technical questions during the interview, we also investigate if the candidate has the right attitude and character to see if he is an excellent cultural fit. The candidate will be given a set of questions that would highlight their attitude, camaraderie, and sometimes leadership skills. During this stage, we analyze and test if the candidate is flexible, curious, open-minded, easy to adapt, and whether he is really passionate about the continuously evolving world of technology.
Here are the qualities we look for in a candidate during this stage:
Drive to deliver the best results

– Consistently achieving objectives on time with top quality even under challenging circumstances and pushes himself and the team to accomplish their goals 

Continuously Improving

– Has the initiative to be available when new challenges arise, proactive in proposing technical solutions, and taking into account work-related experiences

Collaborative

– Establishes a good partnership and good working relationships with other team members towards the same goal

Resilient

– Rebounds from setbacks and adversity with grace when facing difficult situations 

Decisive with Quality

– Making good and timely decisions that keep the team moving forward
We do our best to see if the candidate is an excellent cultural fit for our client to ensure no gap in their business relationship.
Take Home Exam
In some cases, when we want to assess a candidate's capabilities further, we give them a take-home exam. Some clients have the take-home exam as a mandatory part of their process to know the candidate's skills and in-depth work. The take-home exam may appear simple but what we really look into during this stage is whether the candidate would go an extra mile in delivering more than what is asked. The results will immediately separate the Mid Level Developers from the Senior ones. The take-home exam allows us to see the specific code design structure and principles the candidate follows. We only consider candidates who provide quick results and top-quality work.
There will be times when some developers claim they are of senior level, but when their skills, project contributions, and performance are checked, it doesn't support that claim. Some of them turn out as a senior in the number of years but are actually a mid-level developer in experience. We classify the candidates based on our assessment and not on their resume claims. This is our way of ensuring that we hire competent developers.
Filter
This is the time when our recruiting team gives our final verdict on a candidate's application. We discuss all the pros, cons, and areas for improvement. Should the candidate fail to meet our requirements, we don't proceed to hiring them. Should the candidate be an outstanding applicant, we then proceed to the next and final step. 
Hire
When a candidate meets or sometimes exceeds our expectations, we proceed to hiring them. At this stage, we prepare all the necessary documents, requirements, guidelines, and of course, the job offer. The candidate is given enough time to go over the contracts, and as soon as everything is ready, we welcome him on board.
We live up to our high standard hiring process to give our clients only the best developer candidates. And it is with a high guarantee that they will be able to deliver the client's vision into a product that they will be proud of and would assist them in taking their business to further success. 
If you're looking for top-tier developers to work on your project, contact us today.